About Interplayers
Mission

The mission of Interplayers Professional Resident Theatre is to provide dynamic and innovative professional theatre to Spokane and the Inland Northwest. By developing and nurturing our regional talent base, raising the creative standards for regional theatrical production and expanding our artistic programming, Spokane Interplayers Ensemble strengthens its position as a significant Inland Northwest arts institution with local, regional and national impact.

History

In 1980, Spokane Interplayers Ensemble was founded by professional actors Robert and Joan Welch as the Inland Northwest's first resident professional theatre, reflected in our new name, Interplayers Professional Resident Theatre. It is a traditionally structured, not-for-profit theatre, with a professional staff, and governed by a community-based board of directors. In its 30-year history the theatre has grown to become a recognized artistic institution of influence and impact.

Production History (click here)


Community

Interplayers is a major contributor to the region's cultural quality of life, and is pivotal to the economic revitalization of downtown Spokane. The theatre works diligently to provide challenging, diverse and inspiring productions.

Interplayers Professional Resident Theatre

has been honored with numerous awards.
---
Other Interplayers Information
Learn more: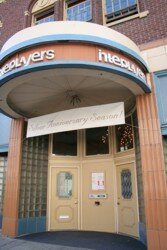 Address:

174 S. Howard, Spokane, WA 99201
To order tickets please call:
455-PLAY (7529)

1-800-325-SEAT (7328)
or visit www.TicketsWest.com to purchase tickets online